The Importance of Math Discourse and Common Core State Standards
Math Talk aligns with the Common Core State Standards by promoting the use of dialogue and conversation to explore mathematical thinking. Math Talk provides students an opportunity for deeper understanding through communication. Individually or in groups, students articulate and defend their ideas and analyze the reasoning of others.
Teachers will gain the ability to assess student knowledge through asking "good questions," and align instruction to ensure each student understands how to use math skills through thinking, talking, and doing.
Why Math Talk™?
Five Major Reasons That Talk Is Critical to Teaching and Learning
Talk can reveal understanding and misunderstanding.
Talk supports robust learning by boosting memory.
Talk supports deeper reasoning.
Talk supports language development.
Talk supports development of social skills.
Using communication in the classroom to represent, explain, justify, agree, and disagree shapes the way students learn mathematics. Classroom dialogue engages students, encourages them to learn more, and allows for the exploration of ideas, strategies, procedures, facts, and more.
Affecting the way ideas are exchanged and developed, Math Talk supports a social learning environment for children—creating a community of encouragement, respect, and the exchange of ideas.
Find Out What Your Students Really Understand about Math.
Focus on how students think and reason
Uncover students' strategies, understandings, and misconceptions
Learn how students respond to questions the Common Core expects all middle school students to answer successfully
Asking Good Questions
Asking good questions is a fundamental part of teaching and learning mathematics for students and teachers in every grade. Knowing what questions to ask and how to ask them is essential for teachers to effectively incorporate math discourse in the classroom.
What are good questions?
"Good" questions give students an in-depth and tangible mathematics experience. Open questions that encourage students to think, analyze, criticize, and solve unfamiliar problems. Good questions:
Require more than remembering a fact or reproducing a skill and develop students' higher levels of thinking
Have more than one correct answer or approach
Allow students to learn by answering them
Help teachers learn about the student—providing insight into how each student thinks, what they know, and the connections they are making
Use accessible language and offer a universal entry point for all students
Create a sense of wonder and encourage students to construct new questions themselves
Math Talk provides teachers with the information they need to ask good questions, connect discourse to informative assessment, and adjust instruction to meet individual needs.
Math Talk Bundles
Integrate Discourse into Instruction Affordably
Stretch your budget with these essential Math Talk resource collections. Get the materials you need to help effectively integrate math dialogue into the classroom, at price you can afford.
The Big Talk Bundle


Learn More
The Small Talk Bundle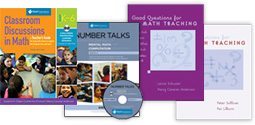 Learn More
The Assessment Bundle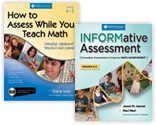 Learn More
The COMPLETE Math Talk Bundle
Math Talk bundles are not available for purchase by dealers/resellers.
Dig Deeper with Math Talk™ Resources
Looking for ideas and tools to help integrate math discourse into your lessons? Dig deeper into Math Talk with our FREE resources. Browse through our collection of related books, read informative articles, and watch videos of Math Talk in action to find new and helpful information and ideas to get the conversation started.
Browse our Helpful Resources