NCTM Annual 2016 – Peace, Love, and Math with the Math Solutions Team!
by Math Solutions Professional Learning Team, April 20th, 2016
All Blog Posts
Since NCTM Annual 2016 was in San Francisco, the Math Solutions team rode our groovy Peace, Love, and Math bus into the conference, and invited all our math educator friends to join us! If you attended NCTM, we hope you had a chance to stop by our booth and hang out with us!
Our authors and professional development experts had some informative and inspiring sessions.
Our Math Solutions booth is always a welcoming haven from the hustle and bustle of the NCTM conference, and this year's Peace, Love, and Math hangout was no exception. Teachers who stopped by were able to take a breather on our groovy couch and listen to some far out 60's and 70's tunes with our Silent disco headphones.
Everyone gets the conference munchies at some point – so we had plenty of smoothies and cookies on hand to keep the energy level up!
Our professional development team showed up in their grooviest outfits, ready to chat math and play games with teachers! We had three in-booth activities for teachers – The Game of Pig, Pathways: Multiplication, and a Fractions Number Talk.
Those teachers who stopped by our booth and played all three of our games had the chance to win one of our many raffles and score fun prizes like books, posters, Google Chromebooks!
We had plenty of groovy swag to give away to teachers who stopped by as well.
If you missed the chance to get a Number Talks: Fractions, Decimals, and Percentages excerpt booklet in our booth, make sure to check it out online. We are accepting pre-orders now!
Our Peace, Love, and Math bus photo booth was a huge hit! Teachers stopped by to snag a photo souvenir of their time in our booth, where Haight-Ashbury attitudes and math love collided.
Our Facebook #ShowMathLove raffle gave teachers a chance to show off their picture on social media and win a Google Chromebook in the process. Congratulations to Tracie Kunkel, our winner!
Our Math Solutions authors stopped by the booth for a meet and greet with teachers, and they couldn't resist our Peace, Love, and Math bus!
If you missed the chance to take advantage of our 50% NCTM special discount on books in person (or if your suitcase wouldn't fit all the books you had your eye on), we've got you covered! We're extending our sweet NCTM deal in our online store through May 13th.
Just use code NCTM16 at check out, and have the grooviest math resources sent right to your door!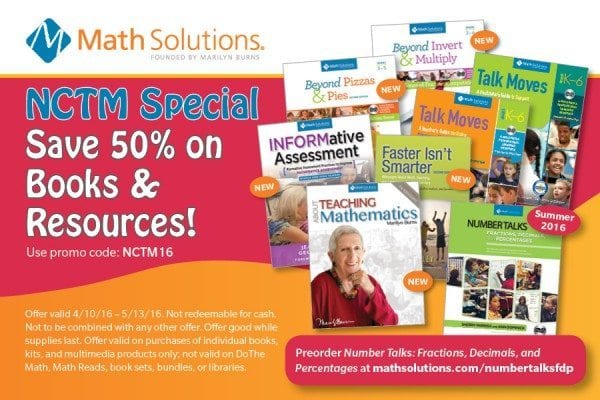 We had such a fun NCTM Annual! We hope to see you all in San Antonio next year!