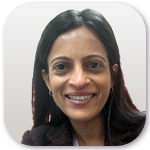 Deepa Bharath joined Math Solutions as a Professional Learning Consultant in the spring of 2016. As a consultant, Deepa collaborates with the Director of Professional Learning, fellow consultants, and district site coordinators, so that teachers' professional development courses and experiences meet the needs of the school, the teachers, and the district.
Deepa has led professional development since 2005 at institutes, workshops, and universities. She worked as a Mathematics Instructional Coach in Queens, NY for two years where she facilitated professional development for teachers, aligned core curriculum to common core standards, and mapped, designed, and created scheduled curricula and tools for teachers. Prior to this, Deepa was a Response to Intervention Teacher in NY, where she assisted in grade-level planning, and supported teachers in implementing valuable instructional programs, structures, and intensive literacy and math support. Deepa also specializes in Special Education, which she has taught for over ten years. 
She holds a Master of Science in Education from Purdue University, and is currently working towards a Master of Science, Leadership in Math Education.