Math Solutions at the 2016 Mickelson ExxonMobil Teachers Academy
by Math Solutions Professional Learning Team, June 14th, 2016
All Blog Posts
We're so proud to be participating in the 2016 Mickelson ExxonMobil Teachers Academy! What better place to spend professional learning summer months than at cool summer camps just for teachers?
At the Academy, teachers participate in fun math and science experiments and learn valuable lessons to take back to their classrooms and share with their students.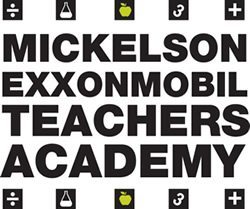 Thanks to the generous support of Phil Mickelson and ExxonMobil, we have partnered with NSTA to offer instruction that will:
Deepen understanding of mathematics and science content at grades 3–5 in the areas of data and statistics, measurement, and force and motion;
Build expertise in facilitating student learning through problem solving and inquiry; demonstrate the interconnections between mathematics and science that support and enhance student learning;
Provide an understanding of how children learn and how to translate that knowledge to classroom instruction;
Increase knowledge and use of instructional resources to support student learning; encourage school teams to network with other professionals in mathematics and science education.
2016 Academies
Houston, Texas, Academy
Hotel: The Woodlands Waterway Marriot Hotel & Convention Center
Dates: Sunday, June 12, 2016 – Friday, June 17, 2016
Pittsburgh, Pennsylvania, Academy
Hotel: Pittsburgh Marriott City Center
Dates: Sunday, July 10, 2016 – Friday, July 15, 2016
Jersey City, New Jersey, Academy
Hotel: Hyatt Regency Jersey City on the Hudson
Dates: Sunday, July 17, 2016 – Friday, July 22, 2016
Academy Mission
To conduct a professional development academy for teachers of grades 3–5 that results in improved learning experiences for their students by
Enhancing grade appropriate mathematics and science content knowledge;
Demonstrating the interrelationships between scientific inquiry and mathematical problem solving;
Using the tools of mathematics to build understanding and connections to science concepts; and
Modeling "best practices" in teaching and learning.
For more information on Mickelson ExxonMobil Teachers Academy visit SendMyTeacher.com.
If you will be attending the academies, make sure to share you experiences on social media using #MEMTA2016! We will be giving away prizes at each of the conferences to those who join in our online conversation.