Join Math Solutions at NCTM Annual 2018!
by Math Solutions Professional Learning Team, April 25th, 2018
All Blog Posts
Howdy fellow educators! We hope you will be joining us in Washington DC for the NCTM conference next week, April 26th-28th . If you're going, make sure these thought-provoking sessions with our authors and professional learning experts make it onto your schedule.
Visit our booth #233 for fun activities and delicious treats, and take a moment to enter our raffles—you could win some special prizes, including Amazon's Echo Dot!  Check out our sessions below, or click here to go to a complete schedule of our week at NCTM/NCSM.
Thursday, April 26th, 2018
8:00AM AM-5:00PM Booth Exhibit Hours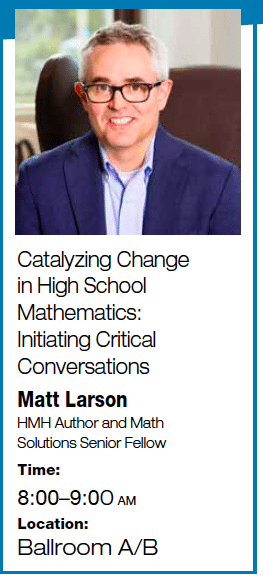 8:00 AM–9:00 AM | Ballroom Salon A/B
Catalyzing Change in High School Mathematics: Initiating Critical Conversations
Speaker: Senior Fellow Matt Larson
9:30 AM–10:30 AM | Ballroom Salon 12-13
Beyond Warm-Ups and Exit Tickets: Effective Ways to Open and Close a Lesson
Speakers: Connie Horgan & Sheila Yates
9:45 AM–11:00 AM | Ballroom A-C
Fraction Sense Is Tied to Common Sense
Speakers: Diane Reynolds & Lori Ramsey
1:30 PM–2:30 PM | 202A
Prealgebra: Geometry as a Conceptual Tool
Speaker: Susan D'Souza & Britt Robinson
Friday, April 27th, 2018
8:00AM AM-5:00PM Booth Exhibit Hours
8:00 AM–9:15 AM | 204AB
Eyes on Learning: Collaborative Professional Learning with the Instructional Practices Inventory
Speakers: Mary Mitchell & Sue Chapman
8:00 AM–9:15 AM | Salon 1
Math Workshop: 3 Classroom Structures That Support Guided Math & Learning Stations
Speaker: Jennifer Lempp
9:30 AM–10:30 AM | Ballroom B
Making the Most of the M in STEM—Mathematics, Modeling, and More
Speaker: Cathy Seeley
11:00 AM–12:00 PM | 154AB
Empowering Equity with Collaborative Problem Solving
Speaker: Robyn Silbey
11:00 AM–12:00 PM | 202A
Enriching Word Problems with a Mathematical Modeling Framework
Speaker: Samuel Otten
1:30 PM–2:30 PM | Ballroom F-H
Keep Calm and Use Talk Moves
Speaker: Nancy Anderson
1:30 PM–2:30 PM | Ballroom A
The New Professionalism: Empowering Teachers as Researchers, Accomplices, and Agitators
Speaker: Michael Steele
4:30 PM–5:30 PM | Ballroom F-H
Cultivating Math-Positive Parents: Passing the Growth Mindset on to Families
Speaker: Carrie Cutler
6:00 PM–7:00 PM | Ballroom B
Ignite! We'll Enlighten You and We'll Make It Quick
Speaker: Senior Fellow Matt Larson, Juli Dixon
Saturday, April 28th, 2018
8:00AM AM-12:00PM Booth Exhibit Hours
9:30 AM–10:30 PM | Ballroom A
Using Number Talks to Foster a Growth Mindset
Speaker: Sherry Parrish