Join Math Solutions at NCSM 2019!
by Math Solutions Professional Learning Team, March 28th, 2019
All Blog Posts
Are you ready for NCSM 2019 in San Diego, CA? We can't wait to see you in our Booth 113 for a Math Workshop Essentials: Developing Number Sense signing with authors Rusty Bresser & Caren Holtzman. We have a full lineup of professional learning sessions for you to check out as well. Hope to see you there! 
Monday, April 1st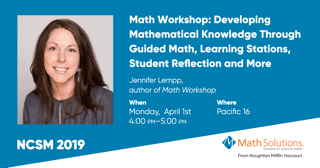 "Math Workshop: Developing Mathematical Knowledge Through Guided Math, Learning Stations, Student Reflection and More"
Jennifer Lempp, author of Math Workshop
4:00 PM – 5:00PM
Pacific 16
Tuesday, April 2nd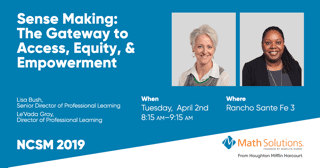 "Sense-Making: The Gateway to Access, Equity, & Empowerment"
Lisa Bush, Senior Director of Professional Learning
Le'Vada, Gray, Director of Professional Learning
8:15 AM –  9:15 AM
Rancho Sante Fe 3
"Strategic+Planning+Session= Success"
Lori Ramsey, Professional Learning Consultant
Sandra Coulson, Director of Professional Learning
11:15 AM – 12:15 PM
Pacific 16
Meet the Authors!
Rusty Bresser & Caren Holtzman, authors of Math Workshop Essentials: Developing Number Sense
1:00 PM
HMH/Math Solutions Booth 113
Wednesday, April 3rd
"The Language Spectrum in Mathematics Classrooms: Supporting Instruction that Empowers Students in Multiple Contexts"
9:30 AM – 10:30 AM
Michelle Cirillo, author of Mathematics Discourse in Secondary Classrooms
Sam Otten, Author of Mathematics Discourse in Secondary Classrooms
Michael Steele, Author of Mathematics Discourse in Secondary Classrooms
Pacific 15