Join Math Solutions at NCTM 2019!
by Math Solutions Professional Learning Team, March 29th, 2019
All Blog Posts
Hello fellow math educators! We hope you will be joining us in San Diego, CA for the NCTM conference next week. If you're going, make sure these thought-provoking sessions with our authors and professional learning experts make it onto your schedule.
Visit our booth #1225 for fun activities and delicious treats, and take a moment to enter our raffles—you could win some special prizes, including our new publications, Math Workshop and Math Workshop Essentials!  Check out our sessions below:
Thursday, April 4th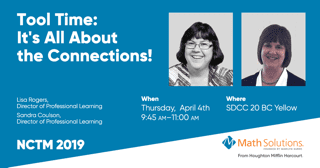 "Tool Time: It's All About the Connections!"
9:45 AM – 11:00 AM
Lisa Rogers, Director of Professional Learning
Sandra Coulson, Director of Professional Learning
SDCC 20 BC Yellow
10:30 AM In-booth professional learning activity & giveaway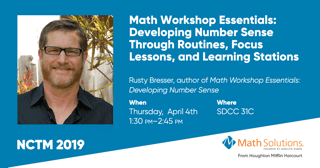 "Math Workshop Essentials: Developing Number Sense Through Routines, Focus Lessons, and Learning Stations"
Rusty Bresser, author of Math Workshop Essentials: Developing Number Sense
1:30 PM -2:45 PM
SDCC 31C
"Promoting Discourse in High School"
Connie Horgan, Professional Learning Consultant
Amy Herman, Professional Learning Consultant
1:30 PM -2:45 PM
SDCC 24 ABC
1:45 PM In-booth professional learning activity & giveaway
"Empowering Mathematical Understanding Through Empathic Listening"
Monica Kendall, Professional Learning Consultant
James Daniels, Professional Learning Consultant
3:15 PM – 4:30 PM  
SDCC 33AB
"Challenging Assumptions: An Equity Practice"
Nicole Bridge, Professional Learning Consultant
3:15 PM – 4:30 PM
Hilton Bayfront, Sapphire OP
3:45 PM In-booth professional learning activity & giveaway
4:00 Toast 35 Years of Math Solutions with Marilyn Burns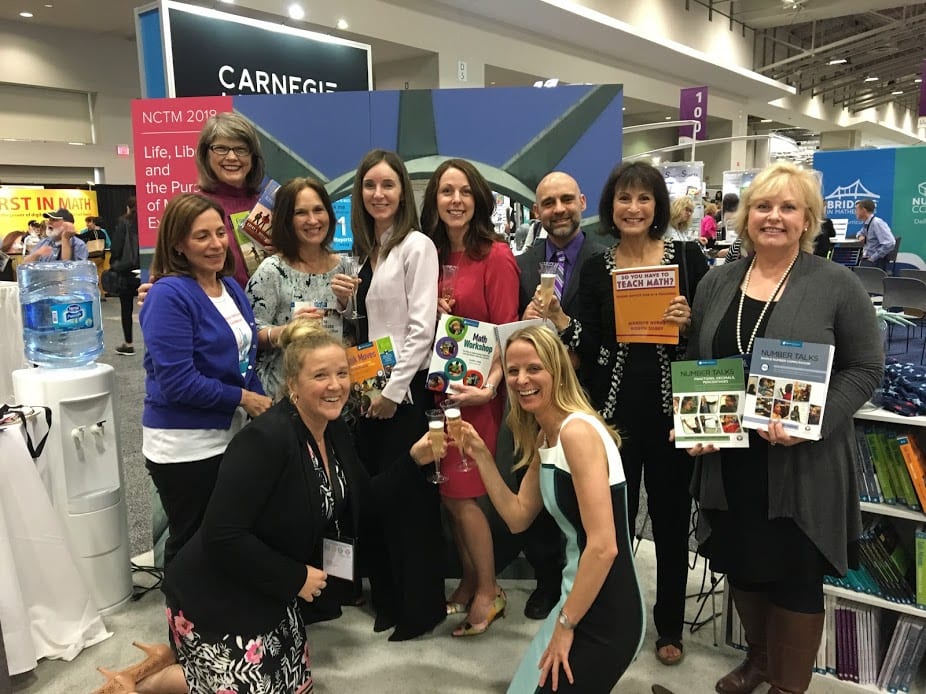 Friday, April 5th
"Making Sense of Students' Numerical Reasoning in Order to Guide Instruction"
Marilyn Burns, Founder of Math Solutions
8:00 AM – 9:00 AM
SDCC Exhibit Hall E
"Student-Centered Three-Act Tasks: Mathematical Modeling for the YouTube Generation"
Carrie Cutler, author of Math-Positive Mindsets: Growing a Child's Mind without Losing Yours
8:00 AM – 9:00 AM
Hilton Bayfront, Aqua 311
"Exploring Quadratic Functions through Experiments"
Amy Herman, Professional Learning Consultant
Connie Horgan, Professional Learning Consultant
8:00 AM – 9:15 AM
Hilton Bayfront Indigo D
"Three Thought Tools for the Mathematical Modeler"
Michelle Cirillo, author of Mathematics Discourse in Secondary Classrooms
John Pelesko
8:00 AM – 9:15 AM
SDCC 33 AB
12:00 PM In-booth professional learning activity & giveaway
"Whiteness in Our Classrooms"
Nicole Bridge, Professional Learning Consultant
Barb Everhart, BeRealCoach
3:15 PM – 4:30 PM
SDCC 28 ABC
3:30 PM In-booth professional learning activity & giveaway
"Measuring Impact: Coaches and Teachers Taking a Lab Approach to Teaching & Learning"
Mary Mitchell, Senior Instructional Designer
Sue Chapman, Professional Learning Consultant
4:30 PM – 5:30 PM
SDCC 31C
4:30 PM In-booth professional learning activity & giveaway
Saturday, April 6th
"It Makes Sense: Using Rekenreks to Build Number Sense"
Patty King, Author of It Makes Sense! Using Rekenreks to Build Number Sense
9:30 AM – 10:30 AM
Hilton Bayfront, Aqua EF
10:00 AM In-booth professional learning activity & giveaway
11:15 AM In-booth professional learning activity & giveaway