Getting Below the Tip of the Iceberg with Assessment
by Math Solutions Professional Learning Team, August 02nd, 2015
All Blog Posts
Written by Mary Mitchell, Content Development Manager, Math Solutions
When I was still in the classroom I was constantly trying different assessment methods to get to know my students as learners. I would take time to discuss the methods with other teachers and ask about what they were trying, but these encounters were random and brief.  When I talk with teachers, many feel inadequate when it comes to developing assessments. They don't feel they have the knowledge or skill required to create assessments on their own.
As an instructional leader, knowing how to give teachers a gentle nudge in the right direction to support necessary changes to assessment practice takes thought, skill, and planning. NCTM's Principles to Actions (2014) suggests the following actions for principals, coaches, specialists and other school leaders:
Make collaborative design and implementation of common formative assessment processes a norm, and allocate the necessary time for grade-level or subject-based teacher teams to complete this work.
Provide teachers with the professional development support that they need to develop their assessment expertise.
Ensure that collaborative teams use assessment results appropriately to guide and modify instructional practices and make program improvements.
Think about your school/district. Are teachers:
Creating their own assessments or are they primarily using chapter tests or district benchmark tests?
Using assessments to record a grade or are they using assessments to inform instructional decisions?
Evaluating students' mathematics learning using a variety of assessments to get a clearer picture of what students know and are able to do?
The visual below from INFORMative Assessment, Formative Assessment to Improve Math Achievement by Joyner and Muri can be used to get the conversation about effective assessment practices started.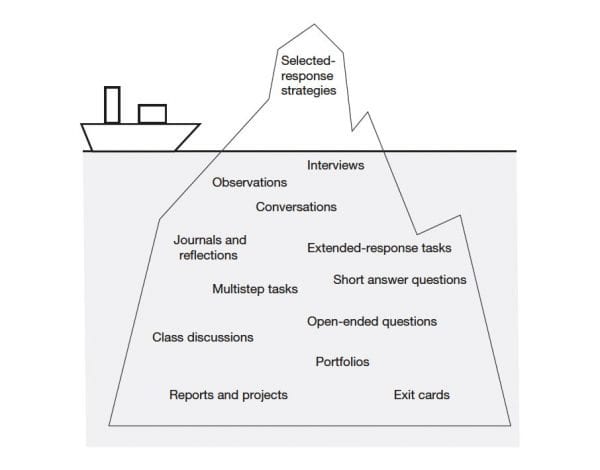 Joyner and Muri use the analogy of an iceberg to compare different types of assessment. They say that selected-response strategies, such as multiple choice, matching, and true-false questions are like the "tip of the iceberg" because they don't give us much information about what students understand. They can also provide false positives if students guess correctly indicating knowledge students don't really have.
Below the surface are constructed response strategies such as open-ended questions, interviews, journals, and short answer questions. They tell us "what's below the surface" – appropriately, the biggest part of the iceberg, because these types of assessment provide more information about what students understand or don't understand.
If we want teachers to collaborate to develop common formative assessments and truly use these assessments to increase student learning and improve instruction, then a well-developed plan needs to be in place to make this happen.
Four Steps:
Give teachers time to talk about the diagram and share what assessment methods they are currently using and what methods they would like to use more.
Set a goal with a timeline for trying new assessment methods including time to reflect on student learning and instruction.
Ask what supports the teachers need to achieve their goal – time to learn more about assessment through a book club? professional learning course? or time to experiment with the support of a mentor or coach?
Encourage and celebrate efforts toward making change. Recognizing from the beginning that this will take persistence and hard work and then acknowledging those efforts along the way to sustain the change.
It's likely that the topic of assessment is a regular one in your school or district. What challenges do you face? How can the ideas presented here support your work as an instructional leader?