Join Math Solutions at these upcoming math conferences and special events.
To view slides from speaker presentations at recent conferences, click here.
---
2017 Professional Learning Institute
July 26-28, 2017
Lafayette Hill, PA
Conference Information
Register here.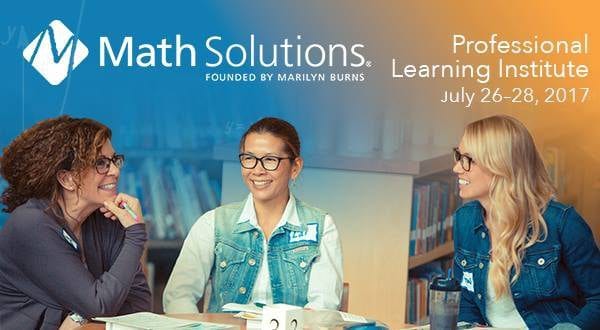 During this 3-day professional learning institute, participants build mathematical content knowledge and acquire new instructional strategies to engage students with lessons and learning activities aligned to unique state standards.  Participants will leave the institute with an instructional plan designed to deepen students' understanding of mathematics in preparation for the 2017-2018 school year.
Keynote speaker, Cathy Seeley, will engage participants in a discussion regarding giving students time and opportunity to struggle constructively with complex problems—which are often interesting and engaging—and increases their motivation.  Teachers and students can learn that in-depth analysis and critical thinking are as valuable as quick recall and direct skill application.
The institute will be focused on the following themes:
DAY 1: MAKING SENSE OF MATH: Reasoning & Discourse
DAY 2: MATHEMATICAL THINKING: Representation and Procedural Fluency
DAY 3: RIGOROUS LEARNING EXPERIENCES: Hands-on planning sessions